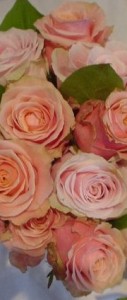 We are solely wedding and event florists so we don't have a shop ­ just a chilly workshop! You are welcome to come to see us, or you might find it easier to meet us at your venue so you can point out your ideas.
We are based in South East London (close to Dulwich, Herne Hill and Crystal Palace) which means we are able to buy all our flowers and foliage to order from the magnificent Covent Garden flower market at Vauxhall.
Contact Ruth Curran Crawley to talk about your lovely flowers.
(0208) 761 1248
(07505) 114964
Or click here to send us an email.